Instantly Read Articles Online, Submit Your Music For Review, Get Listed in Print/Digital Magazine, Receive Magazine Subscription, Join The Brand This Artist Campaign, Participate in the DJ Originals Mix Contests, Receive Special Promotions …
Start at $4.99 / Month – Cancel Anytime!
TRY Up To 2 WEEKS FREE!
The Music Affiliate Memberships provides access to featured articles and interviews, digital downloads and print subscription. Join the Brand This Artist Campaign, enter the DJ Originals Mix Contest, watch exclusive videos online, receive special promotions and other member's only privileges as a Music Affiliate Plus member.
Music Affiliate
$4.99 / Month
Music  Plus
$9.99 / Month
Music Plus ++
$154.99 / Year
 Get 6 Digital Editions FREE with a 1-year print subscription!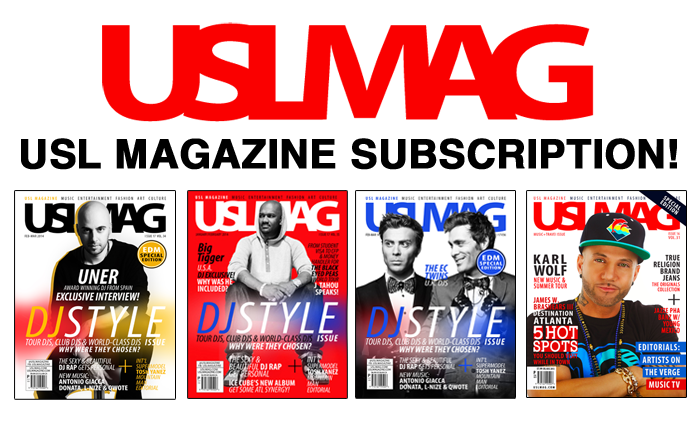 Have a question about your order? Please contact us at Subscription-Services@uslmag.com.
*Continuous Service Program: I understand that unless I tell you otherwise I will receive uninterrupted service and delivery of these magazines, and my subscriptions will be automatically renewed at the end of each subscription term, at the rates then in effect. I authorize that you send my information to the applicable publisher to fulfill my subscription and charge the credit/debit card if provided, or send me a bill if not. I won't be bothered with any renewal notices in the mail; instead I will receive clearly marked reminder notices with the then current rates at least 45 days before my credit/debit card is charged or I receive a bill. I may opt out of the automatic renewal at any time and receive a refund on all unmailed issues by contacting the applicable publishers' customer service referenced below. Sales tax will be charged where applicable. Each magazine purchase, download and subscription ordered is charged separately. All orders are processed through Paypal secure payment system.
USL Men's Quarterly and USL Magazine is published by 1PKC and SEIDEMG KDS, LLC. © 2011-2014. All magazines are printed in Medford, Oregon and Atlanta, Georgia and shipped from California.
USL Men's Quarterly suggested US cover price is $6.99 ($9.99 outside of U.S.) per print issue and $4.99 per digital edition. USL Men's Quarterly is published 4 times a year. USL Magazine suggested retail price is $6.99 (9.99 outside of U.S.) per print issue and $3.99 per digital edition. USL Magazine is published 6 times a year. Shipping is not included in the suggested retail price or any subsequent discount price. Please allow 3-4 week for order fulfillment and delivery within the the US. International fulfillment and delivery may take an additional 7 days. Digital files are delivered within 24 hours of purchase.