Hardwell made a career DJing to massive crowds of club goers and festival attendees throughout the world. He is one of the highest paid DJ's worldwide, according to Forbes.com, and has had several hit singles and remixes; working with A-list DJ's and artists including his idol, Tiësto, Jason Derulo, W&W, Jolin Cai, Austin Mahone, KSHMR and many others. His debut album, "United We Are," released in 2015, hit the No. 2 spot on Billboard's Top Dance/Electronic Album Chart and No. 2 on the iTunes Worldwide Album Chart.
His style of djing is all his own, and fans want nothing less than their very personal "Hardwell Experience." When asked what he would do if he could no longer DJ, the humble, yet poignant Dutch DJ said he would probably go back to his first love of graphic design. This sentiment is the reason why people and fans alike gravitate to him and his realness.
Now 29, Hardwell has accomplished so much, in such short time. In 2013 and 2014, he received the top award for the Number One DJ in the World. The following year, he clinched the Best International and Electro/Progressive House DJ awards, Best Global DJ and five other honors in 2016. In 2017, Hardwell finished off the year with a successful Biggest Guestlist Festival in India, where he raised money to send 100,00 kids to school and won Best International and Big Room House awards. With all he has accomplished, fame did not make Hardwell big-headed or egotistical, in my opinion. Instead, he remained true to himself, his family, friends and his adorned fans. There is a sense of coolness about him that most people in his position have long since lost. Not Hardwell.
What is the Hardwell Experience? Well, I can tell you that I experienced Hardwell for the first time in Atlanta, GA, at the Goldroom, in late October of 2017, and I was impressed. Yes, he played great music, and yes he can certainly entertain a crowd quite well. However, the experience that impressed me the most was how thoroughly he enjoys what he does. As I watched Hardwell on the 1's and 2's that night, this feeling of no care in the world seems to overtake him, and that revealed his love and passion for what he does. The atmosphere was so moving that I too felt it. His skills are something short of "perfect," and one can admire people who love what they do so much that they inspire the same in others.
Hardwell and I had a conversation that night, literally behind the club. It was a bit awkward at times – not our conversation though. See, there was an opening DJ, and the music was deafening. So, we had to do the interview outside, behind the club. At the time, I was like, "what the hell, let's do it." However, as the interview when on, workers kept walking between us as we spoke, which became a bit uneasy, and out of my comfort zone. However, not Hardwell. He rolled with whatever it was that was happening at the time. Here is an edited transcript of our conversation.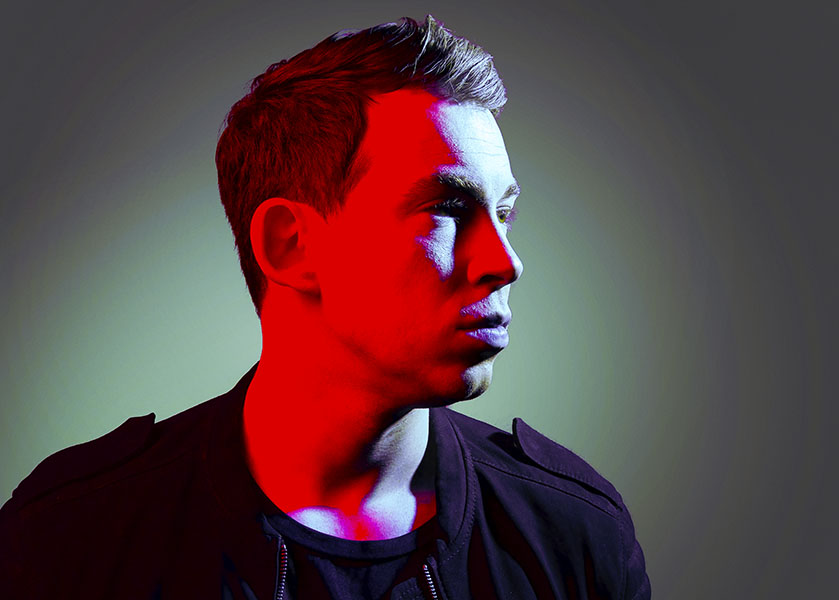 Q&A
Of all the interviews you have done, I cannot recall anyone asking you what you like to do for fun… What gets you in that silly mode, where you just want to goof-off?
That's definitely when I have a night off with my friends. Now I know this may really sound regular, for everybody that's reading this, but I'm always traveling, and I really do miss my family and friends. So, when I have some time off, I go out with my friends. I live in a really small place inside of Holland, and we just go to local bars and have a lot of fun there. That's definitely when you catch me on my silly side.
Describe to me a day in the life of Roberrt and Hardwell – from waking up to going to bed? Are Roberrt and the Hardwell persona one within the same or are there distinct differences?
My lives are completely different. When you say Hardwell, I will say that I'm constantly on the road. I wake up, have a quick breakfast, go to the airport, fly out to the next destination, have a quick nap, prepare my music, do my emails, and then I go to the show. I do the same thing over and over again. For Roberrt, I wake up, and I'm in the studio and doing my radio show. People always think when I'm not playing shows; I'm not working, but I'm like running my own record company, doing radio, and a little gaming. I'm a big Nintendo fan. So yeah, that's how I spend my time.
Music has been your inspiration since you were a boy. Did you ever want to do anything else? Be anyone else? I mean, God forbid you could no longer create music, what would be your fall-back plan?
Well, I could never, ever imagine a life without music. So that is a really hard question. Basically, music is my oxygen; it's how I live. I always love to stay on the creative side, and I use to be a graphic designer. So, I probably would fall-back to that.
So what is Hardwell's creative process, you know, when you want to create a new track? Describe it to me from start to finish?
I always start on the piano, writing melodies and chords until I'm like 100% satisfied. I seek out that certain emotion – that melody that's stuck in my head. I never actually start with electronic sounds. I always start writing regular songs, and from that point, I just record them in the direction that I'm gonna go; may it be a really heavy, hard, festival type track, or more emotional, progressive house with vocals. That is how I actually start working and sound designing my sounds for the tracks. But, I always start on the piano, and I always look out for that certain emotion. I truly believe you'll never create that emotion if you start using certain trends and EDM sounds in the very beginning. I think piano – organic instruments will always create that certain emotion that you cannot create with electronic sounds.
Was it the success of your single "Play It Around" or "Never Knew Love" that made you realize you were on your way to stardom? How did your life change? Explain to me what that feeling?
"Never Knew Love" was my first top 40 hit in Holland in 2006. For me, that was my first commercial success I ever had.
What was that feeling like though, when you finally realized you were heading towards stardom?
It was really weird! "Never Knew Love" was like the first song of myself that I heard on the radio, and it was one of the best feelings in the world. I was finally getting support by a bigger audition that you ever could imagine. So yeah, that's always like a special feeling.
In an interview, you said Michael Jackson was one of your musical inspirations. Which Michael Jackson songs would you love to remix or mash-up?
That's a really hard one, but I would try my very best to recreate something with "Smooth Criminal" and "The Way You Make Me Feel."
Why do you choose though songs?
"Smooth Criminal" is definitely one of my all-time favorite records…
Hip-hop was your beginning, and then you transitioned to a more commercial appeal. If you could work with say two current U.S. hip-hop artists today, aside from the collaboration with Fatman Scoop, who would they be and why?
Yeah, there's definitely some famous rappers I'm working with; doing some crossover hip-hop stuff.
Which two new hip-hop artists are your favorites right now?
If I can consider Drake as a new artist; I would choose Drake. Right now, I would also choose The Weeknd, even though he's not hip-hop-hip-hop. Those two artists are definitely my favorite artists. If I look at my Spotify playlist, and the albums I play a lot, I would definitely say The Weeknd and Drake.
So what new Music or collaboration do you have on the horizon?
I can't say anything, but I'm working on a lot of records with a couple major artists right now. I'm also doing a lot of crossover, pop radio songs. On the over hand, I'm doing the hard-hitting festival stuff too. So, I'm basically doing both sides right now, and trying to find the exact balance between them. I've never been so productive, especially on the pop-side. So it's really fun – the whole process working with singers and songwriters, and the artist working with you. There are a lot of great stuff coming up. Maybe you're not used to it as a Hardwell fan, but I believe in good music. If it's a good song, it's a good song, no matter which genre. And there are a lot of great music laying around that's gonna be released in 2018.
What is the inspiration behind the Hardwell Eclipse cologne? How did you decide on the fragrance?
When they approached me to do the fragrance, I was really skeptical about it from the beginning. But then they gave me a completely creative outlet – making the fragrance and designing the bottle. I was involved with every single part of the process. So it was a lot of fun doing something you've never done before – creating your own fragrance. Yeah, it was really cool to come up with something that you actually really like. So imagine you're buying a fragrance. You walk into the store and you wanna have that specific fragrance, but you always have to ask the salesperson to help you. Then, all of a sudden, you can create exactly what you like. That was a fun thing to do.
Let's talk about the World's Biggest Guestlist Festival, which is a charity event to fund the education of 100, 000 children in India. How did the Biggest Guest-list festival come about?
The first time I did my concert, my "I Am Hardwell" show in India, outside of the venue there were a lot of homeless kids seeking shelter from the rain. That broke my heart. I was there to create, and build a party and I see all these kids outside the venue. So I ask the promoter, "why are all these kids on the street?" He said, "they have no future. We don't have enough schools, and they will never have the chance to go to school and even have a little education." So I was like, "the next time I come back to India, I want to give something back to society and those kids." That is why I started my own foundation, "United We Are," which is the same title as my album.
I think everybody in life deserves a chance to go to school and make something of their life, instead of growing up on the streets and staying there for the rest of their lives. So we launched The World Biggest Guestlist back in 2015 and now we're coming back in 2018 with an even bigger party. People can subscribe at my website, and there's free entrance. We try to attract as many sponsors as we can; to raise enough money to build schools and put those children into school.
So your next World Biggest Guestlist show is coming up on Dec 3? Who are some of the big friends you're inviting out?
The friends who are actually joining me are W&W and Suyano, one of the upcoming guys on my record label. Also joining me is Kill the Buzz, who has been my opening guy for two years now. We have more people that will be confirmed.
Are there plans for any little Robbert's soon?
I hope. I wish. I'm still single, so let's see in the future. I'm a really kids person, so I hope I will be lucky enough to have healthy kids in the future, and become a dad. That is definitely a future goal for me.
So do you think you would be a great dad?
I hope so. I was really raised great by my mom and dad. So, if I can have half of what my mom and dad did raising me; I think I'm gonna be a great dad.
Here's a question I always love to ask during my interviews… Have you ran into any ex-girlfriends since you became famous, and if so, describe to us the conversation?
Yeah, of course.
So what were your interactions with them?
I always had great relationships, and even when we break up, I always kept in-touch with them. It's weird though, after all those years, especially with my first girlfriends. I'm 29 now, and you start dating like when you're 17-18. They were always really proud of me. I was 14 when I signed my first record deal. So, everybody knew, even in my high school, that I was going to do something with music. Nobody knew, or ever saw it coming that I would grow up to be one of the biggest DJ's in the world. Still, I was always into music, and they are really proud of me.
Lets wrap-up this interview with some shout-outs. Do you have anyone in particular?
The only shout-out I would like to give is to my fans, man. I'm still able to travel around the world, selling out venues, provide my music worldwide, and make people happy and dance. So, I feel really blessed and grateful. Thank you to my fans, and keep supporting me no matter what!
Connect with Hardwell:
www.youtube.com/robberthardwell | www.facebook.com/djhardwell
www.twitter.com/hardwell | www.instagram.com/hardwell
Special Thanks to Hardwell, Urban Rebel and the Roadie. Big-up!
Click here for reuse options!


Copyright 2018 USL Magazine