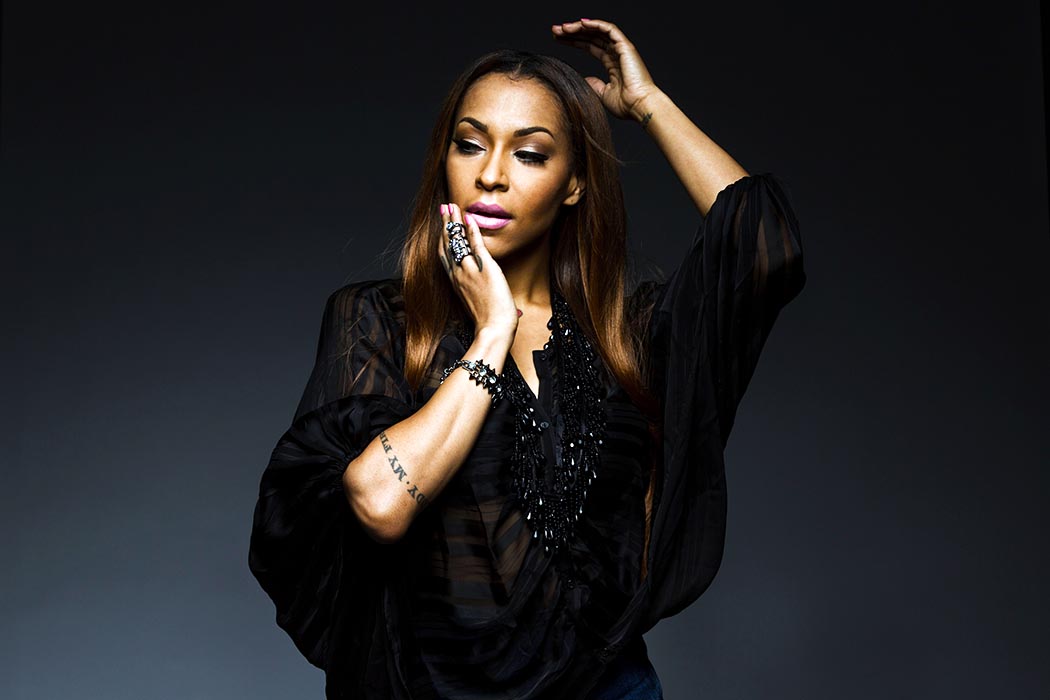 Once a member of the duo group Black Buddafly with sister Jazz, Aminata "Amina Buddafly" Schmahl, life as an artist is a story that is all too familiar. She has had the bad record deal – Def Jam Records. Her marriage with hubby and music producer Peter Gunz is tumultuous at best and a familiarity that is identifiable to many – Hip-Hop or conservative. Through it all, Buddafly has remained optimistic and is very appreciative of her role on VH1's "Love & Hip-Hop New York" and the direction her music career is heading.
Get a little in debt with Amina as she field some questions from USL.
Which music artist inspired you while growing up?
Mariah Carey was my main influence, and I learned so much just by studying her vocally. I do not think I know anyone who knows her music as much as I do. Lol. Especially the 90's and early 2000's, Mariah's music is still playing on my iPod, while working out and in my car… Also, I was influenced by a lot of 90's R&B female singers and groups like En Vogue; Brownstone, TLC, Zhane, Brandy, Monica, Deborah Cox and the list continues… However, I am not a one-genre kind of person; I love a great pop song… Alanis Morisette, The Bangles, Linda Perry, all had a big part in me becoming an artist and getting me to where I am today….
Your parents are also passionate musically, what are your favorite musical memories with them?
My favorite music memories were with my dad when me and my sisters were very young.. Probably 2, 3, or even 4-years-old.. we would sing and dance around the house all the time. My dad would play the guitar and sing with us or put on some salsa or classical music for us to dance to. Every night after bath time it was like a naked-party situation in the living room.
How did Black Buddafly help you to become a solo artist?
Well, let's just say, without Black Buddafly, I would not be where I am or who I am today. My sisters and that group are the reasons I even came to America 12 years ago. All the great experiences we have had and all of the downfalls… I would never trade for anything because it shaped me and taught me a lot.
How did you feel when you were first signed to Def Jam and J Records?
We all felt very excited… It was our journey and the moment… we did not realize how big it was… It was what we had always dreamed. However, being signed seemed so normal, and we went with the f low. It was great to be around all the legends like Jay-Z, Russell Simmons and L.A. Reid on a regular artist, exec type situation. I was just very young, and we thought this was our time… It didn't turn out the way we wanted it, but the experience was still a huge accomplishment for three innocent girls from Germany.
How did you get introduced into the "Love & Hip-Hop" franchise?
It was because of my husband. The producers found him very appealing, funny and interesting, as that is what kind of person he is. So they wanted to know more about him and his life… Also, his love life, which I was part of, like me, and him was already married – on the low… He introduced me to the producers and being that I was a musician and artist, they thought it would be a great fit for the show. At first though, I was like me? "Love and hip hop?" Never! Then I was like, "I don't know…" That soon turned into "hmm maybe, what else am I doing?" Let's do it!"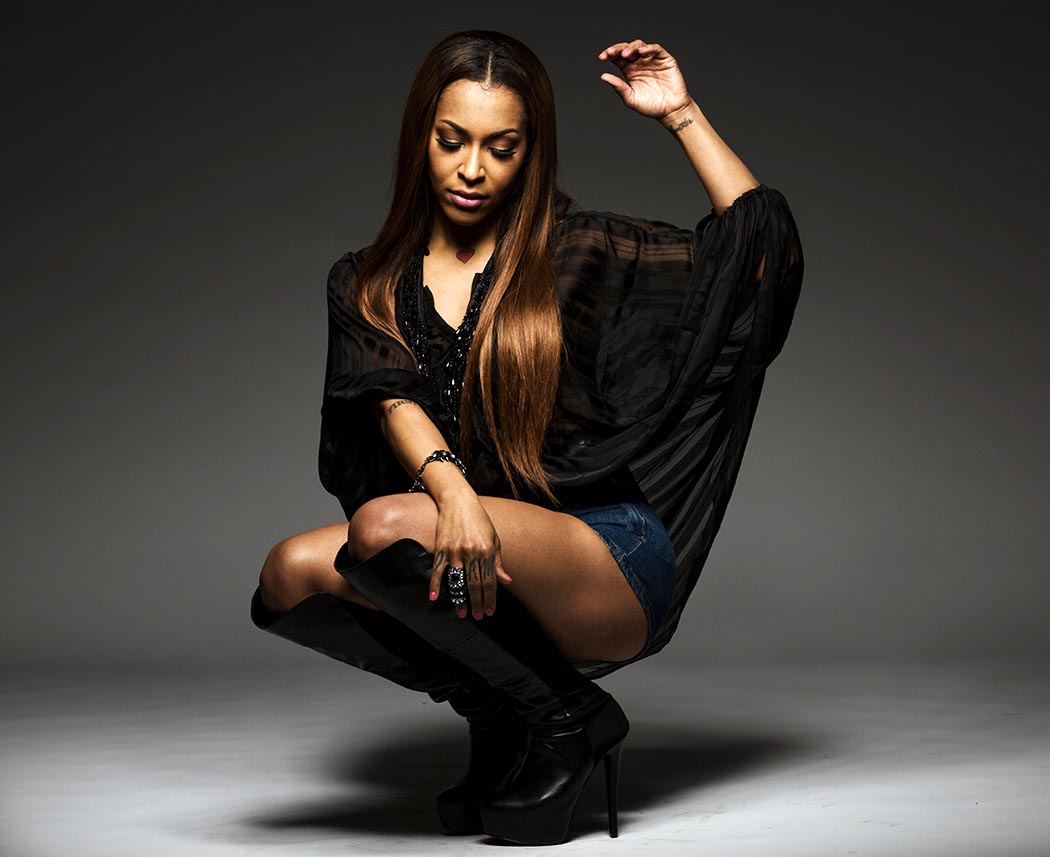 How do you feel about your experiences on "Love & Hip-Hop NY" and what have you learned from them?
My experiences with the show have been bitter sweet… I still feel I am not necessarily the person for a reality show… I like to think I am a little weird.. A real musician.. who might not be outgoing enough. I might sometimes be a little too boring for the average viewer. However, it has brought me a whole lot of new fans whom I love and appreciates. I have sold more records, and I am not even signed to a major record label. Overall I have had more success thru "Love and Hip Hop," than ever in my life, and it just gives me a certain level of fame, that I can use in my favor. My goal was to promote my music, and it worked. On the f lip side, it was one of the hardest things to go through emotionally, because it is real life at the end of the day. We live this! We don't just film it and then go home… no, our life is what you see (plus a lot more of course), but the point is, it was very draining at times. I have learned just to keep reminding myself of who I am. That is what saves me!
What does love meant to you and how have your relationship with Peter Gunz progressed?
Love means understanding one another in all areas. It means trust and dedication; love has never been an easy thing in my life, or let me say relationships have not been an easy thing in my life… I've been through a lot with men. Love hurts! Even though, it should not… However, when I love someone I give my all, with no limitations. Our relationship has definitely been rocky but is getting better with time, as I think it should. We are still happily married, excited for our baby on the way, and people are going to have to tune into Season 5 to see the details. 🙂
After you had sung on the "Love & Hip-Hop Reunion" show, your music did well on iTunes. Are there plans for a tour or spot gigs?
Yes. As I had said before, my sales went up to where I hit number 3 on the iTunes R&B Charts. I release my music independently, so that was definitely a win for me, especially since I did not only write but also produce the track, "Don't Wanna Be Right." As far as tour, that would be something to talk about next year after the next season since I will be a new mom and in mommy mode for the rest of the year. However, my new album is in the works! Where do you get your motivation and inspiration while writing songs? Sometimes I am not motivated… then I don't write, because it is frustrating… I wanna create all the time, but I have to wait til I get inspired. I never know when it happens or where the push comes from, that inspires me. But, I like to say my music is real, honest and free… Those three words discern it best. Also, when I do get inspired it is most likely a real situation that I am dealing with at the time.
If you could work with any artist, who would it be and why?
I would write a song with one of my favorite artist and songwriter, Sara Bareilles, or another great writer I love, Gary Barlow. Another person I would wanna write and sing with is a young artist named Tori Kelly.
What's next for you?
Well, I am giving birth to my first child in a month so I think a lot of beautiful, stressful and memorable moments are in my near future… Filming Season 5 of "Love and Hip Hop" and recording and writing my new album should be enough for now. 🙂
Connect with Amina  Buddafly at www.twitter.com/aminabuddafly. Interview by Patrick Kelly @PrettyBoyPK for USL Magazine. Special thanks to Amina Buddafly.
Click here for reuse options!


Copyright 2015 USL Magazine