For those of our readers who aren't privy to the writings of Ciara Elle, briefly let us know some of your accomplishments and what really inspires you as a writer?
Within my professional writing career thus far, I have completed three books entitled: Drowning In A Mother's Womb (which is a trilogy) Go Get It (My most recent release in February 2013) and B.A.I.T which means Believe, Affirm, Inspire and Transcend ( set to be released in October 2013). GO Get It is available via Barnes & Noble, Amazon, IBooks, Ebook and Kindle. You can also log onto my website for book purchases via www.ciaraelle.com
I am continuously inspired to write from experiences, struggles and people who have lived in poverty driven communities in some point of their lives.
You currently have a new book entitled Go Get It. Are you making a proclamation?
[Laugh Out Loud] Yes, I guess you can say that I am making a proclamation about self-awareness, self-esteem and empowerment within one's own embody of life.
Can you give us a brief synapses of each of your sub-titles and what you want the reader to take from them?
28-day Challenge - This chapter is a challenge for you as the reader, to not to say anything negative for 28 days, and if you do, you will follow up with a positive statement following such negativity. Breaking the negative bridge in yourself!
My hope is the reader will see a difference in responses and feeling about oneself for being positive in a negative situation.
Go Get IT Path - This chapter is reflecting on different ways to begin on a "Go Get It" path. What inspires me about this chapter is there is a self-assessment that allows you to see how you view things which sometimes can be your hindrance in succeeding in our goals and even blocks us from building goals.
Pessimistic vs. Optimistic - That chapter sheds light on the differences between Pessimistic and Optimistic. I want the reader to understand and become fully enable to visualize the importance of being.
Hustle….Hustle Hard - I love this chapter name! Its exactly that....Hustle...Hustle hard. No matter what you choose to do in life, go hard or go home. I want the reader to gain some sense of motivation while embracing their current situation.
Life and Love - The "Life and Love" chapter teaches you that it is important to constantly embrace life and love even during the bad days as you would approach the good days.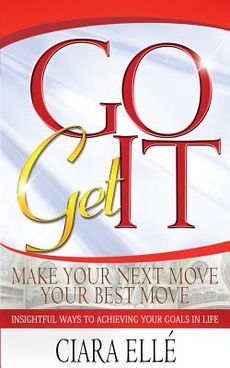 Let Go - I added this chapter due to over the years and experiences I have come to witness or be apart of; some people fail to succeed because of barriers, or past failures. Whatever the case may be I just want readers to let go of anything holding them back.
Forgive…Live…Give - The chapter seemingly piggy backs on the Let Go chapter. In life, we are faced with many adversities and barriers, some of which people may feel is overwhelming. Some of those barriers are caused by not forgiving. I urge readers to forgive, so you can live and once you've figured that part out, give back to help someone else.
Mind Over Matter - Often times we get so caught up in chaos (matter) that it drains the mind. It should never reverse, it should always be mind over matter. I hope that the reader learn to differentiate between the two.
Aspiration. Inspiration…Motivation - This chapter is inspired by my "Go Get It" created. This chapter teaches you to surround your aspirations by inspiration and motivation.
Now Or Never - I encourage the readers to take a stand Now or Never.
Get Fit For Life - In life, we struggle with many different challenges, one of which I think people are uncomfortable with themselves which is sometimes caused by insecurities, and insecurities are sometimes caused by low self-esteem. I offer workout suggestions as well as self esteem boosters.
Mentality - I titled this chapter "Mentality" because that is what we are driven by, our mentality. I hope the readers understand the importance of a positive mentality, and how far our mentality alone will take us.
Do you consider yourself a religious or spiritual person? If so, do you have daily inspirations which guide you through your day?
I believe in Christianity, but there is still a lot that I am learning with such religion. For the most part Christianity is my faith base.
For those who are seeking a higher purpose or enlightenment, what do you say to them?
Continue to seek your higher purpose, and don't stop until it feels like joy, that is when you will know you have reached what you were seeking.
For more information on this author and her new book Go Get It, please visit www.ciaraelle.com. Follow her on Twitter at @Ciara_Elle / IG: itsciaraelle / FB: itsciaraelle
Article By Patrick Kelly
Click here for reuse options!


Copyright 2013 USL Magazine