Belgium DJ Marco Bailey is one of the busiest techno DJ's around. Touring every weekend, hitting each continent and managing his ever so popular label MB Elektronics known for its prolific output of quality techno, Marco had his 100th release with his new artist High Volume on Feb 11th, 2013.
Bailey, mostly known for his prolific output of top notch techno and tech house releases loves the concept of albums for its experimental value. On his albums, Bailey explores his creative identity and treats the listener with tracks ranging from the purest of techno, to other deeper sounds that go past his trademark sound.
Marco Bailey: "Of course, the main theme of the album is techno. It's the sound I'm known for and the sound I love to play around the world because of its relentless energy. Yet, my love for music goes way beyond techno and I love to show that on my albums. I'm a big fan of guys like Boards Of Canada who influenced me to make Grolzham, the opening track of High Volume. I also like Tech House and pumping/energetic quality House. That's why the album contains one Tech House tune by the name of Funk That Groove.
I recorded High Volume over a period of 6 -7 months; not every day because my touring doesn't always make it possible to do so. But I do use my laptop on the road to capture ideas. Then, when I'm back in the studio, I finalize all these ideas into complete tracks. I wanted my album to build like a DJ set: deep and a bit slower at the start, then in the middle peak with material such as "The Falcon" and "The Fox" and ending in beauty with the emotional piano track "She Leaves."
Marco Bailey wanted to celebrate the 100th release of MB ELEKTRONICS in style after the release of his highly acclaimed Dragon Man album on John Digweed's famed Bedrock label. Dragon Man charted Top 10 on Beatport Techno and received support from the global techno elite; including Carl Cox, The Advent, Dave Clarke, Umek, Adam Beyer and Sharam.
Marco Bailey's music characterizes itself by its deep moody flow, rock solid grooves and edgy finish. High Volume listens as a soundtrack to a tense psychological thriller. Taking time for an appropriate build-up, High Volume then moves onto unforgiving climaxes and ends peacefully. Some of the highlights of the album include "The Falcon," which takes a minimal but driving approach. A boiling monotone bass line is the back bone for this otherwise trippy cut. The techno groove of "Cash" pulls you in with its hypnotizing lead sound; surely a favorite to be at the techno festivals. The haunting sounds of "The Black Crow" slowly grab the listener like the darkest scene in a Hitchcock masterpiece, but never fails to lose track of the dance floor.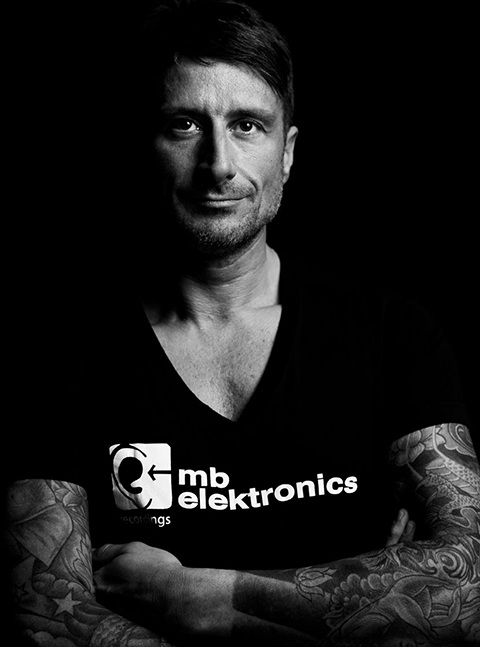 Q&A with Marco Bailey
When did you first start out producing music and how does it differ with today's age?
I started producing music in 1994 – as a DJ much earlier in 1988, but producing my first record was back in 1994. I don't know if it differs compared to today. I'm still going on like I used to do 19 almost 20 years ago!
You are releasing your new album High Volume February 11th on your own label MB Elektronics. It has a few beautiful down-tempo tracks next to the techno material that comprises most of the album. Do you enjoy producing a slightly different style of music now and then?
Yes, of course I think it's important if you do an album to do different styles. In an album you have to put your heart and soul inside, otherwise you're better to do 5 or 6 single EP's.
When I started as a DJ, I played also 9 to 10 hour sets with lots of different styles in the night. I love Techno, I love Tech House, I love House, I love down-tempo, I love Rock, I love Classical music, and I love Electronics and so on. That's why on my album I have of course 80% techno because that's the style I'm known for and which I feel is the right energy to make people go dance and get wild. But in my heart I love really nice down-tempo Electronics or a nice classic piano as well, which you can hear on my album.
You are currently on tour here in the US. How are you enjoying the gigs so far?
Yes! I really like playing here a lot. Everywhere has been amazing! New York has a great vibe; Chicago as well as Miami, Detroit etc, etc!
What would you consider your most epic gig of 2012?
It's definitely every year so far in Tokyo, Japan at Ageha. For me it's the best club in the World; massive sound system, massive Lights, and a wonderful lovely crowd each time when I am playing! Also playing in Argentina is top of the bill for me as well!
What was your strongest motivation to pursue a career in music?
I don't know actually. I first was only into sports and wanted to be a professional sportsman. First with motorcross; then later I did cycling competitions. It was on the age of 18, after a quite heavy fall with my bike, I had to stop the sport. I went out to a local club and was immediately possessed by deejaying.
How would you define success as a DJ? Is it a Beatport top 10 hit or a sold out tour? What are your thoughts on this?
For me personally it is a DJ who has everything in his veins and body: great DJ skills (technical), not pushing a sequencer start/stop button or Sync buttons, a DJ who can entertain the crowd without playing commercial top 10 hits or easy food. It's someone who makes great records and works HARD! "But unfortunately the world has changed and now success to a popular DJ is someone who has enough money for promotion to sell out with tickets and play the same set on every single event of festival. It's a shame! That's what it has become to be a "popular DJ."
Other than a love for music, you like tattoos a lot. Do you have a preferred tattoo artist?
Yes, but he lives far away in Okinawa, Japan. Every year I try to visit him!
If you could pick one track to make a person fall in love with techno, which one would that be?
I would pick "Acid Eiffel" from Laurent Garnier & Shazz and so many other tracks. "The Night of The Jaguar" from Rolando, Underground Resistance (in general all releases), Kevin Saunderson, etc.
Being from Belgium, what would you say is the best thing about your country?
What's the best thing about Belgium? Well, beside the fact we have the best beer and chocolate, maybe also one of the best festivals: Tomorrowland.
Is there anything else you would like to mention to our readers?
Judge a DJ on how he plays: skills and special tracks, instead of buying tickets to see some clowns doing nothing and just being a circus act! Playing radio hits one after the other is easy as peanuts…
Thanks again Marco for taking the time for this interview!
MARCO BAILEY – HIGH VOLUME (MB Elektronics) MBE100
Release date: February 11th 2013
01.Grolzham
02.The Black Crow
03.The Falcon
04.The Fox
05.The Owl
06.The Snake
07.Cash
08.Funk That Groove
09.Summer Madness
10.Horny Tiger
11.The Airport Lounge
12.She Leaves
Bonus Digital Track
13. Sunday Depress
CD Release: 1 CD – 12 Tracks
Digital Release: 12 Tracks + 1 Bonus Track
Vinyl Release: 2 x 12" Vinyl (8 Tracks)
For more info about this release, contact Wilf Libgott of www.hammarica.com | wilf@hammarica.com
To hear more music, catch Marco Bailey's ELEKTRONIC FORCE PODCAST @ www.podomatic.com/marcobailey
Article By Wilf Libgott of Hammarica.com
Photos By Thommy Mardo – Mannheim, Germany
Click here for reuse options!


Copyright 2013 USL Magazine