Ever played a record or CD for a month or so straight until it scratched or broke? If you're a dance/house head, that is probably what you would do to a Kevin Bryant record. I can remember hearing the many remixes from his very first major release "Any Love" (a Chaka Kahn remake) on America's top dance/house label Strictly Rhythm Records. At that time, if a record was hot, Remixers usually got a bit out of control with the remixes and Kevin's "Any Love" had about 7 or 8 of them for 1 single. We're talking about deep house, electronic, b.o.p, Silo, euro, radio, etc. And all of them made you wanna lie about being sick on a Saturday night, so you could go out clubbing instead of going to work. Believe it or not, that is exactly what me and some friends did and we weren't ashamed of it either.
Coming full circle, I must say that I revere Kevin Bryant as one of thee most underrated singers out there. He's a guy that can belt out Chaka Kahn's "My Funny Valentine" with pristine precision and it's effortless. How is that for talent? So, it was only proper that I brought him to USL, being one of my favorite recording artist and all.
Q&A with Kevin Bryant...
You have been working within the music and entertainment industry for quite some time now. How did you get your start?
It seemed like this industry was destined for me from what my mom says. My mother and aunt sang in a gospel group when they were very young, and they would have me at the rehearsals. I was always trying to sing along with them even though I could barely speak. That was the start of my influence. And as I was growing up I would always make up songs and dance around the house. Not realizing there was a method to my madness. As I went on through school I always felt I wanted to be on a stage. Wherever there was a stage there I was. I started out doing a lot of classical music or opera, which paved a way for me to go to college with a scholarship to major in vocal music education. So when I first moved to Atlanta my college roommates tricked me into getting on stage to enter a talent competition that really started the ball rolling.
How has that helped shape the path that you are on today?
Well, I learned a lot from different auditions and also a little about how cut throat the business could be, but that didn't stop me; it actually kept me thriving and I developed that thirst for more. I also learned over the years to embrace my uniqueness, and understand that what I have to give is not like anybody else. I also learned the grind of a struggling artist. It is not an easy ride with the ups and downs, trying different genres of music, and learning to be different things for different people. But I must say now with all that I had to endure, I truly know who I am as an established artist. I believe that all the experiences of learning this business have created things for me to sing and write about.
You are one of the top "underground" dance music artist to date. What does that mean for you as a professional and in what direction would you like to see your career go?
I am just very grateful that I am able to live my dream, and share the gift that God has given me. Being one of the ""top" is always good (lol). I think my career is limitless, and as far as where I would like to see my career go; I would like to start expanding my brand to film and even Broadway. I am open to wherever it takes me. This entertainment career is my life assignment.
Who are some of your inspirations (artists) and how have they made you become a better writer, artist, singer and performer?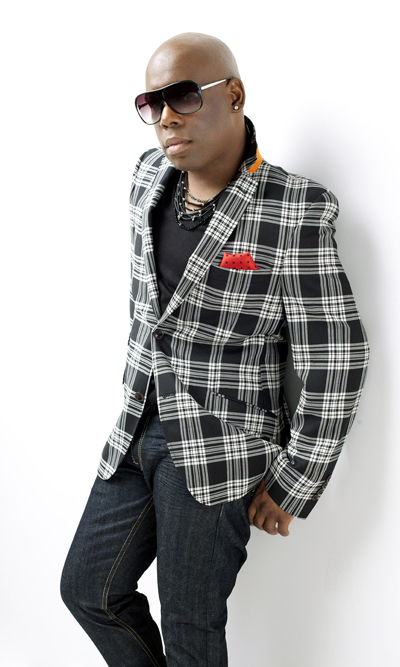 There are so many other artists that inspire me for different reasons, and yes I have learned from all of them. Some are known and unknown, old and new. One of my biggest inspiration is the legendary Chaka Khan. The reason Chaka is my biggest inspiration is she realized that she had something unique vocally. Along with understanding that her voice is an instrument, she mastered how to blend her vocal sound and ability in with the music and enhance the totality of the song. She becomes one with the production and I connected with that at a very young age. Other singers like Jody Watley, Stevie Wonder, Howard Hewitt, and younger artist like Rahsaan Patterson and Lala Hathaway I connect with because they use their voices as instruments in a song to enhance what is already there.
As a writer,  Prince, Madonna and Erykah Badu inspires me because they made you feel their experiences. They wrote about their experiences as an artist and you could witness and some how live what they lived. I love when Erykah Badu puts some of her real life experiences and beliefs in her music. It makes the song more believable.
As a performer, of course Michael Jackson, James Brown, Chris Brown and Beyonce are my inspiration! They become fully committed to the performance! And yes, I do watch Beyonce sometimes and I see the transformation into Sasha Fierce!! I also love Lady GaGa. She is totally committed.
One who encompasses all those descriptions is the Legendary Millie Jackson. She has been like a second mother to me, and the type of artist that she is and who she influences makes me better as a writer, singer, artist and performer. She writes her life, sings about it, and performs it through the art of entertainment!! I love her!
It has been stated that you have an innovative sound and it seems like every artists, old and new, like to think of themselves as thee it sound. What differs you from other artist who have the same claim?
I think what makes me different is the fact that I have been all over the place as far as different genres of music. From Classical, Jazz, R&B, Pop, Funk, Soul, Gospel, House and even a little Rock; I've done it all! It's in my blood. With all that talent rolled up into one, you can't help but be innovative. It took me a long time and different phases to be able to do that. Also we all have different stories to tell and how we tell it makes it seem unique to the people that relates to it.
Ten years ago, many mainstream portals looked down on Dance and house music. Many even thought of it as gay people's music. Now, it has transcended to be thee popularize genre of the millennium, with top artists such as Lady Gaga, Usher, Jason Derulo and Chris Brown making millions of dollars from the now "it" genre. What is your take on how Dance music has become popular music?
I think Dance music is a hybrid of a few other genres, styles, and emotions. It may have been looked down on in the past by some portals because they just could not relate to it. As far as House Music goes, I think it brings out a whole different emotion that some people are not ready to deal with. Even I use to run away from the thought of being a house music artist because of what it appeared to represent, which dictated that you were a part of a certain lifestyle like gay or a term called "The dirty back pack" click. All that happens when we as a society don't really know how to identify with something or even understand why we like it. The Gay Community embraced house music because it was a way to express themselves through music and not feel pressured or judged. It was all about the feeling; the music. No one cared who you were singing to or about; just be free and express yourself. The majority was not ready for that, so House music had that stigma. Also, it seemed very limited at the time. Now that we have evolved and more people are being introduced to their new feelings, it is easier for the world to except what it is that is expressed!
When writing lyrics, where do you draw your inspiration for your songs? What are some techniques you use to keep your voice crisp and vital?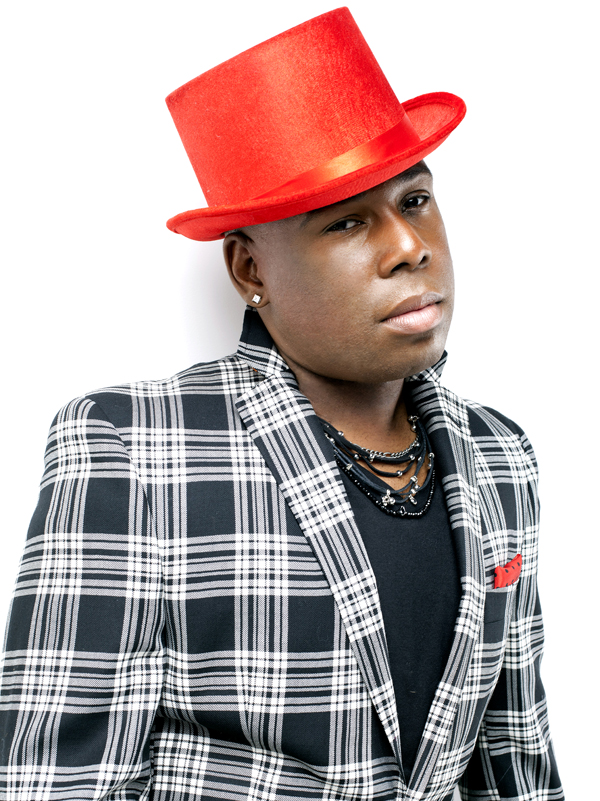 I get Inspiration from my real life experiences! I think that is a great way to connect with other people who may share my story. I think we all live to help each other, so writing about what I go through can very well help somebody else deal with the various challenges we go through; good or bad. I have my concoctions along with lots of prayer and meditation to help me with my vocals.
For all of the readers who do not know who you are, please tell them your journey and the many artists you've worked with?
Well, I will say this, my journey has been long but very rewarding. I have been across the music spectrum in many different genres and life experiences to create the Kevin Bryant brand. Coming from different backgrounds has allowed me to work with some incredible artist
Like Millie Jackson, Martha Wash, Maxwell, Erykah Badu, Usher, Blu Cantrell, Jennifer Holiday, Macy Grey, Kelly Price, Missy Elliott, and the list can go on and on. I have been blessed to work with a lot of newer artists as well like Riahnna. Many Dance Music Dj/producers like Chris Brann, Don Carlos, Bob Sinclar, Pete Rose and Block&Crown. Yes, the career has been very rewarding.
You have multiple singles, topping the Euro Dance charts. Is there an album in the works? Who might make an appearance on it? What are some projects you currently have in the works?
I do have a few more singles that are set for release. I'm also working on an album project currently called Live, Love & Dance, which is a mixture of all the genres and life stories I have to tell. I Can say that I am finalizing some big surprises for my forthcoming efforts. There is a new mix Circulating the European clubs now with me and 50 Cent. It's pretty cool to know that my brand is growing like it is.
Success is defined in many different ways. What is success for Kevin Bryant? What is your 5 year plan and if you would leave the Earth tomorrow, what would you want your legacy to be?
Success for me is being able to live the life that is mapped out for me by God. Understanding that there will be challenges, but moving forward so that your purpose can be identified, and others can learn from you; that is success for me. At this stage in my career I don't really do a 5 year plan, I just plan and execute. All I would want my legacy to be is that I am an artist who represents each and every one of us. I am someone who open doors for the unknown, sing for the unheard, and was and is visible for the unseen. I am a human being first and an artist who Live, Love and Dance!
Buy Kevin Bryant's Music here!
Contributors: Patrick Kelly & August Mapp
Photographer Corey Reese, Stylist Betrice Benbow MUA Thomas Dye
Photo Retouches Reggie Bryant of FSquared Communications Group
Click here for reuse options!


Copyright 2012 USL Magazine