USL Magazine recently spent sometime around the gifted actor and musician, Carl Anthony Payne. You might recognize him best from the memorable roles played on hit TV sitcoms such as Martin and The Cosby Show. Without a doubt, his re-occurring roles have garnered him a significant place in TV history. To this day, children as young as 8 years old easily identify him from repeat episodes televised on cable networks such as TV One and Nickelodeon. During our exclusive sit-down interview, the Harlem native discussed various topics from how he became an actor, to sharing where he draws inspiration from day-to-day, to informing us about upcoming business ventures.
Our conversation jumped off with my interest to know how Payne decided to become an actor. Carl Payne shared that he has always submersed himself with things involving the performing arts. He actually started out taking dance at a young age and overtime stumble upon his career in acting, but firmly believes that you are where you are supposed to be at all times.
When I asked Payne – what actors/comedians did you look up to or watched most as an adolescent? He immediately broke out into an impromptu rendition of Grease Lightnin' portrayed by John Travolta from the classic film Grease. Payne shared that he liked movies such as Grease and naturally has a interest for music and often throughout our time together he would bellow out a lyric or two of popular songs from back in the day to modern day hits. In addition to John Travolta, Carl Payne shared that he also followed the career of famous comedian Richard Pryor. Being that Payne has never been shy about putting his vocal skills on display, I asked him if we can expect him to get behind any music projects in the near future and he shared yes…but it has to be right; it has to be the right project at the right time and he'll know once it's presented to him. Although a music project such as an album or contribution to an album may be a few years away for the well-know comedy actor, we can be sure to witness great music talents within a few short films, plays and reality series, which is a part of his new business movement.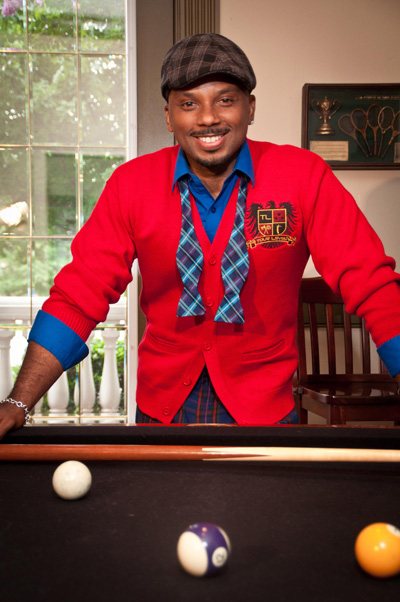 The-11Eleven11 Project is a movement as Carl Payne often referenced, one that is well anticipated and is destined to have a tremendous impact on various individuals whom have profound stories to tell. The movement will kick-off in Atlanta, GA. Over the course of merely 11 weeks, under the guidance of the film industry's most documented veterans – 11 writers, 11 directors, and 11 producers are forged together to be mentored and trained to construct 11 short films. Enthusiastic and honored, are words that best describe Carl Payne's thoughts towards his association with the prestigious program. Payne will lend his industry experience, life lessons, talents and much more as he works with the emerging writers, directors and producers on various short films slated to be captured in Atlanta. The short films will address various real-life subject matters in which we all can likely relate to on one or more levels. We can expect to learn more about the 11Eleven11 Project during the official premier on November 11th, 2012. The 11Eleven11 Project was created by Studio 11 Films in association with actor/director Kim Fields (currently Directing for Tyler Perry's House of Payne), award winning writer/director Ed Weinberger (writer for The Cosby Show, Mary Tyler Moore, Taxi) and actor/producer Mel Jackson (Living Single, Deliver Us From Eva and Motives).
Payne has four sons and proudly spoke about his desire to guide them in the right direction, support their career interests and humbly shared that his family is where he draws his inspiration daily. He has a natural ability to bring a smile to your face and his upbeat energy is infectious. Carl Payne – a very talented, witty actor is best known for his memorable role as Cole on the 1990′s sitcom, Martin. As Payne gears up for the next chapter of his career, we anxiously await the wonderful projects he has in the works!
For more information on the 11Eleven11 Project, please visit Studio11 Films.
Cover Story By:: Christina Fernander
Cover Shot: David Vasquez (Infinite Images Photography & Design)
Pool Room Shot: Aric Thompson, Dream Photography
Click here for reuse options!


Copyright 2012 USL Magazine