One music mogul (DIDDY) and a music network (MTV) created a competition called "MTV's MAKING THE BAND." It was on "MAKING THE BAND 4" where music mogul Sean "Diddy" Combs discovered Willie, Brian, Mike, Robert, and Que. With the reality of five total strangers (GUYS), from five different cities in AMERICA, living in the SAME HOUSE; it created a recipe for CONFLICT, FLARING TESTOSTERONE, and funk! DIDDY was the ego driven TASK-MASTER, Laurieann (Choreographer) was a bit FLIGHTY, and ANKH RA provided the SANITY. Through hard work, pain, sweat, tears, beating the odds, fat jokes, singing on street corners and a hellish journey to get that DAMN CHEESECAKE, the r&b group DAY 26 was born.
The RELEASE OF THEIR FIRST SINGLE came with much anticipation as the whole world watched the guys perfect their tone, diction, annunciation, delivery and choreography. Entitled "GOT ME GOING," their DEBUT SINGLE was released January 2008 for download and peaked at #79 on BILLBOARD HOT 100. Three months later, their self-entitled album "DAY 26" debuted at #1 on BILLBOARD 200, selling 200,000 copies.
With a second appearance on MAKING THE BAND 4 – THE TOUR, the break-up of DANITY KANE, the sophomore release "FOREVER IN A DAY," and the broiling personal issues of QWANELL; a countdown began towards a break-up. Now WILLIE TAYLOR being the singer, the writer, the father, the husband and the businessman; He is READY to cut loose.
Sean "Diddy" Combs was instrumental in your music career and offered you a great opportunity many artists could not have imagined. Do you feel that you were a true representative of "that choice" he made in including you as a winner in "Making The Band 4" and why?
Absolutely, I feel that I stepped up to the plate very well as a team player showing great leadership.
We all know that reality TV is often staged for ratings and plagued with hype and drama. Was your character portrayal in "Making The Band 4" consistent in what the producers wanted?
I think it was very consistent, being what you saw is what you got. "Making the Band 4" was not staged. People always complain about how they are portrayed in reality TV, but the truth of the matter is "they can only show what you give them." My flaws were my flaws, and my rights were my rights.
 I believe that you are an amazing singer. True industry professionals would say that to sing the way you do takes lots of personal life experiences. What life experiences do you draw from when you sing a song or sit down to write a verse?
My writing style is very creative; it can be a movie I saw or a situation that I am in or been through.
Relationships are hard enough on a day-to-day basis, and it is even harder when it is being broadcast and publicized to the world. How do you maintain your personal relationships with your wife and kids, while traveling or on tour?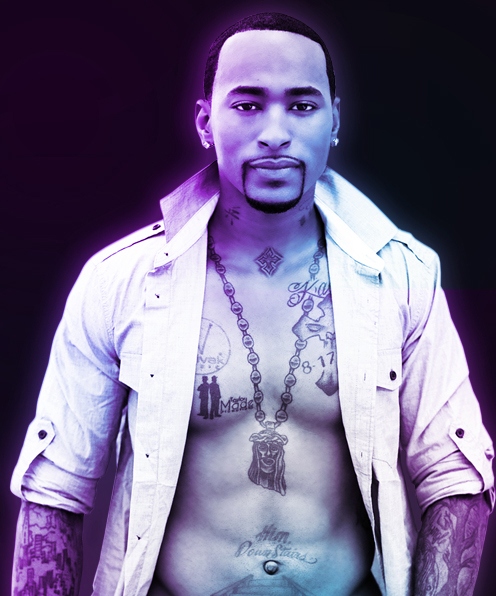 My relationship with my Family is what keeps me sane! The quickest way to Answer that question is "Giving them time." I work a lot, but the hours that I am not working, I have to find out what they want or Need!
We all have been waiting for new music from Day 26, since the last album in 2009. Initially, you all publicized that you were going to release "A New Day" in 2011, then it changed to 2012 and now Day 26 is no more. What series or circumstances made you all come to breaking up the band?
This Group (DAY26) was made up of five people from five Different walks of Life. With five different cities and five different personalities, your interactions could become a headache at times. We tried to bring it back together for the 3rd album, but that task just seemed more and more impossible, day by day. So, instead of losing yet another member and turning into the new BBD (lol), We decided just to let it go and try something new!
The music industry can be very brutal and will eat you up and spit you out if you are not careful. Many artists, both males, and females are confronted with scenarios and compromises they are not used to and often can't comprehend. Where there any scenarios you were confronted with during your tenure as a member of Day 26 that made you give thought to quitting the band (business) or was a true eye opener for you?
The Band, YES! However, music, NEVER (lol). I love music with all I have, and I chalk every good and bad thing up as a Learning experience. However, as far as the group is concerned, I must say there were days where I thought "this is my last day as a Heartbeat"(lol). As talented as the group was, we just couldn't get it together for the sake of the fans, the money, or the fame! It almost seemed like it was destined to fall apart; not because of Diddy at all, but because of the fact that we started with a competition and some of the group members "never" got out of the competitive spirit with each other. Honestly, "that was the downfall to Day26!"
I asked you, Brian, Robert and Mike, about a collaboration with Anthony Q, in a previous interview and you all were susceptible to that. When I asked Anthony Q the same question, it seemed that there was still bad blood and he was reluctant to talk about it. With all that had gone down with you guys, was it that bad to cause Anthony Q
to hold such animosity?
I am really not sure. I talk to Q now and then and I, was the only one fighting to put him back in the group, but that is a whole nother interview. I wish him well on his music and in life. He knows how to reach out to me, and I know how to contact him.
We know that most artists signed to major labels and indies are often lacking when it comes to understanding their business, thus, being taken advantage of and "crying wolf" later. Did you already know the music business or was it something you had to learn?
I started in the game years ago, so by the time I made it to "Making The Band 4," I had a nice understanding of what I was doing. However, while traveling with the group, I did learn a lot more! Also, in this game, "knowledge is power!"
Now that the group Day 26 is no more and you will be considered an artist without major label backing, providing that you all get out of your contract with Atlantic, where do you go from here?
Well, this for me is "the show and tell part!" I think that Atlantic had no idea who I am as a solo artist/writer, which is cool because I could never really show that part of me in the Group. Also, seeing that the contract was one-sided and in their favor (MTB4/Badboy/Atlantic contract), which is how all those "Making The Band" arrangements are, it was cool to be let go with "an excellent fan base" and the talent that I have. Now, the world is mine for the taking!
Will you now focus on being that solo artist many of your fans want you to become, including me?
That Goes without saying! I am so focused right now; it feels insane. I am writing amazing songs. I am in the gym twice a day, reading movie scripts and working on my solo album all at the same damn time. LOL!
There's a saying that "too many hands in the pot ain't good!" Now that you are an indie, solo artist, you no longer have to share publishing with four other guys, even though I am sure "Diddy" still has his hands in the pot. Also, you have new strains now as a solo artist because you will be out there on your own, with no props. What does it feel like now that you are about to embark upon that journey alone?
I was built for it! I always could hold my own as an artist, and now I get to share that with the world! For the record, there are no "hands in the Pot," but my two Hands! Lol!
From all your experiences and everyone on the planet knowing who you are, what advice can you give to a new artist who just signed to a major label and doesn't know what to expect?
First off, know that signing a deal is only the starting point. You have to get out there, get hot and work harder than everyone else. You also have to be a part of #TeamNoSleep, because that is just what it takes!
If someone asked you what your five-year plan is, what would you say?
In five years I want to be known as the award-winning solo artist/actor Willie Taylor. I want to touch hearts through my music, and I want to be a household name!
What do you expect to accomplish with your newly released mixtape "The Reintroduction of Willie Taylor?"
"The Reintroduction of Willie Taylor" is just the beginning. With this project, I want people to get to know me as a solo artist, as a writer, and as a person. I am putting my heart and soul into everything I do and just know that If I did not love it, you would have never heard it! I am calling "The Reintroduction of Willie Taylor" an R&B classic!
Checkout Willie's latest music!
* NOT MINE – WILLIE TAYLOR featuring DONDRIA-
* 12PLAY – WILLIE TAYLOR (R. KELLY Cover) –
Source: King Vision
Interview By: Patrick Kelly
Written By: Willie Taylor & Patrick Kelly
Special Thanks: Ra-Fael Blanco and all the online supporters and promoters.
Click here for reuse options!


Copyright 2012 USL Magazine