CREDITS: "Simple Math" LP  for Sony/Favorite Gentlemen artist Manchester Orchestra, co-produced Manchester Orchestra's "Mean Everything To Nothing" with eight-time GRAMMY Award Winner Joe Chiccarelli resulting in the Top 10 rock hit "I've Got Friends," produced, recorded, mixed, and co-wrote Anything Worth Saying by Aaron Shust—the #1 Christian record of the year in 2006 (nominated for six Dove Awards/won three, "My Savior, My God" reached Billboard's #2 & Christian/Gospel Song of the Decade of the 2000s, nominated for a Dove Award for Pop Contemporary Album of the year in 2007 for Aaron Shust's Sophomore release Whispered and Shouted and currently serves on the board of governors for the Atlanta chapter of The Recording Academy.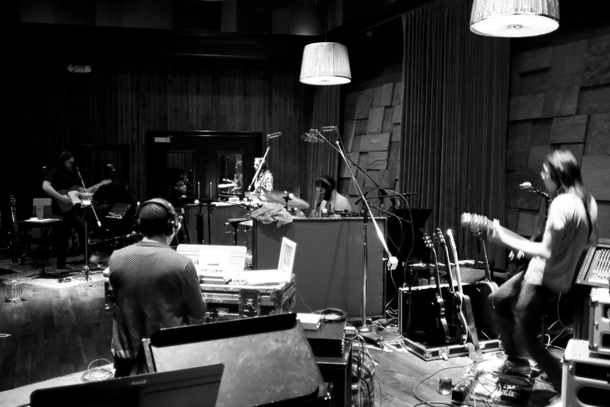 Manchester Orchestra at Blackbird Studio in Nashville, TN in July of 2010 (the tracking room studio)
Let's talk a little about your background and introduction or road to becoming a professional musician, mixer, producer, engineer and songwriter. In all that you've accomplished, what was the single most defining moment for you that till this day, you retrospect?
As far back as I can remember, I wanted to play music.  I wanted to sing, write songs, play guitar or any instrument that I could get my hands on.  I have a memory of being four or five years old and watching my dad sitting on the couch playing guitar and singing.  I was on the floor in front of him and I actually processed the thought that music is what I want to do with my life. That was a pivotal moment for me. So, all throughout elementary school, I taught myself to play guitar.  I wrote and learned songs and performed them for anyone who would listen.  My elementary school music teacher, Mrs. Helen D'Alfonso, was a huge source of encouragement for me.  She would put me in the school plays and even hired me to play and sing at my first 'professional' gig in Ft. Monroe, Virginia at ten years old.  In middle school, I started learning to play drums and percussion and carried on playing in concert band, marching band, jazz lab, percussion ensemble, wind ensemble, steel drum band, and even pep band; all throughout high school and college.  I received a full music scholarship to the University of Southern Mississippi in Hattiesburg, where I majored in Business Administration. I chose not to major in music, but my scholarship was based on my participation in the requisite music classes and various ensembles.
After two and a half years, I dropped out of college to tour with the band I put together with some college friends and roommates. I toured for almost nine years and gained more experience than I could ever have imagined, in multiple areas of the music industry. I got first hand experience with publishing deals, management deals, booking contracts, record label and distribution contracts, and interaction with A&R personnel, as well as, live radio performances, relationships with radio programmers, DJ's, club owners, attorneys, and countless opportunities to engage with people in just about every facet of the business. We also incorporated our business and got business loans from a bank and investments from family which enabled us to buy our own recording equipment, PA, and a fifteen passenger touring van. With our own recording equipment (Mackie 24•8, 3 8-track ADAT Machines, Audio Technica mics, and various consumer compressors, EQ's, etc.), I could spend as much time learning and tracking as I wanted. That's where the production and engineering career began; although I had no idea what 'production' or a 'producer' was.
Click here to get the print copy! Click the "BUY NOW" button to get the instant digital download to read the full article on Dan Hannon and Eldest Only Productions!
Follow Eldest Only Productions on Twitter @eldestonly.
Article By Patrick Kelly
Contributors: Dan Hannon & Patrick Kelly
Click here for reuse options!


Copyright 2012 USL Magazine