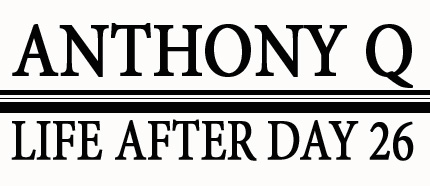 I've been telling you all that I was going to have 'Q" in  the magazine and here we are. Having met him in person, my impression of him is that nothing is every what it seems. And although we watch TV for the glorification of it all, we never really know how someone truly feels about where they are in the grand scheme of things. TV is staged and him being on "Making The Band 4" with the other group members of Day 26 and Diddy, was no exception.
The initial interview or getting to the interview was a bit far-reaching. There were a lot of questions I wanted him to answer, which he elected not to. I'm still hoping in anticipation to get these questions answered, which I didn't feel they were too provocative. Here are the omitted questions so you can judge for yourself:
At the end of the day, when all the lights stop flashing, the cameras are turned off, your boys have gone home and you're finally by yourself; what are some things that runs through your head when you're by yourself? How has your personal life changed with friends and family since you became "Que," the professional music artist on a major label? If you could do a collaboration with any top artist out right now, who would it be and why? How different is it now being an indie solo artist and what are some pro's and con's?
Here are the questions he decided to answer plus more on his new music and where he's heading, since parting ways with Mike, Brian, Robert and Willie of Day 26.
Sean "Puffy" Combs was instrumental in your music career and offered you a major opportunity many artists dream of. Do you feel that you were a true representative of "that choice" he made in including you as a winner in "Making The Band 4" and why?
I'm very grateful for all the opportunities from Sean "Puffy" Combs.  Dreams come true with lots of work, because I've experienced the journey. However, the work never stops! So I would say yes, we all represented our record label well.
With all that has transpired in your life as an artist, what would you say is the one most important thing your fans don't know about Anthony Q?
I have a lot of humility. And I'm a huge fan of Walt Disney.
Speaking for myself, I believe that you are an amazing singer. True industry professionals would say that to sing the way you do takes lots of personal life experiences. What life experiences do you draw from when you sing a song or sit down to write a verse?
When I'm writing music, I like to reflect on my mood, the way I'm feeling. I also love grabbing musical techniques from artist that paved a way for music to exist today. When I perform, I feel free! I'm always coming from a positive place on stage.
We know that most artists signed to major labels and indies are often lacking when it comes to knowing their business, thus, being taken advantage of and "crying wolf" later. Did you already know the music business or was it something you had to learn?
Business, its something I'm still learning. Everyday I read something new about the music business so that I understand the business language.
From all your experiences in everyone on the planet knowing who you are, winning "Making The Band 4," signing a major label contract, working with "Diddy" and all his cronies, traveling the world and being exposed to raw industry life, what advice can you give to a new artist who just signed to a major label and don't know what they're in for?
Stay Humble and change the world with your gift!
If someone asked you what your five year plan would be, what would you say?
Five years from now I plan on accomplishing more of my goals, and aspirations.
When can we expect a release date for your upcoming album and do you prefer to work with major label producers or just good producers; known and unknown?
The album is coming soon & when It arrives you're gonna love every song.
Contributors: Anthony Q & Patrick Kelly
Click here for reuse options!


Copyright 2012 USL Magazine