Order The August 2012 Issue 4 Vol. 12!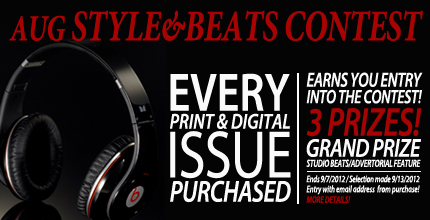 Willie Taylor of the multi-platinum selling R&B group Day 26 covers the August 2012 issue touting a remake of R. Kelly's hit single "12 Play!" The cover feature also includes his entertainment company Noivak Music and Artist Avery Smith. Grammy nominated recording artist B Slad (formerly Tonex) releases his new album "Deep Purpl.e" And we give you a glimpse into the world of Atlanta's Music Indstry with part 1 of 5 series. Part 1includes Dan Hannon (Manchester Orchestra) of Eldest Only Production and New Canvas Entertainment, Jon Bonus Music and the new group HAHA-YO, and Bigg Von and Tim Burk of Make It Happen Music and We Got Hits Publishing and Productions, with hit making producers such as Check Boy, Klassik, Carti Hit-League, DJay Cas, Magnedo7, Kill Will, Big Soj and Young Fokus.
In fashion, we show off our young men promoting style, diversity and individuality with the "Show Ure Fun-Side Campaign by NYC photographer Hyun Gu Kim and fashion editorials by Anna Hajiyev and Karlos Matthews. "Let's Talk About Sex" and the Percy Says Column round off the issue a comment on women loving themselves and the gay vs. straight.
GET INSTANT DOWNLOAD OF THE AUG 2012 DIGITAL ISSUE:

ORDER THE PRINT ISSUE BELOW.
Order The July 2012 Issue 3 Vol. 9!
International Supermodel Tosh Yanez covers the July 2012 Issue with styles by Jordan Anthony Swain. Also in this issue are Grammy winning producer Zaytoven (Gucci Mane, Wacka Flocka…), Anthony Q on "Life After Day 26," DJ Beestroh of Atlanta's Hot 107.9, Netherland DJ Joop with his new single "Just One night," Rapper Chipmunk, Gloss Da Boss, Young Cypher and Bigg Von of Make It Happen Management (with Grammy winning producers Magnedo7 and Kill Will).
In fashion, we show off our young men promoting style, diversity and individuality with the "Show Ure Fun-Side Campaign by photographer Hyun Gu Kim, Art Director Anna Hajiyev's "One-Look Make-Over" and a fashion editorial by fashion photographer Karlos Matthews.
GET INSTANT DOWNLOAD OF THE JULY DIGITAL ISSUE!
Click Here!
The DJ+Producer Issue | Issue 2
On the June 2012 re-issue cover is International supermodel and world famous celebrity DJ Sky Nellor. Hailing "from the land down-under (Australia)," Sky began her modeling career with appearances in Amica, Spanish Vogue and a coveted Guess ad campaign. Read more about Sky Nellor here.
This issue also features the hot Netherlands production duo Block & Crown, Grammy Award wining producer Magnedo7, International Electronics DJ Darin Epsilon, award winning DJ Princess Cut, DJ K-Swiss of Massive Allstars and many others.
In style and fashion, this months issue features celebrity stylist Jordan Anthony Swain, Hairstylist & MUA Dani Scarcella, hot NYC photographer Hyun Gu Kim and our feature male model Donnell Morris.
Click here for reuse options!


Copyright 2012 USL Magazine