As one of the original members of The Dungeon Family, which includes Cool Breeze, Witchdoctor, Organized Noize, Sleepy Brown, Rico Wade, Outkast, Ceelo Green, Society of Soul, Goodie Mob, Big Rube and Mr DJ, Backbone is venturing off into an "ultra collective powerfully known as Dungeon Family Generation X" and a new entertainment company called Plateau Entertainment Group. His mission with Plateau is to "give future artists a platform to express their talents under the tutelage of a seasoned veteran."
With so many artists vying for attention and struggling to get their names out there, a seasoned veteran, willing to share his insight and knowledge, is just what many artist need.  And, while many of these same artists are very talented, some of them do come with the stigma of "a poor mouth with talent." Meaning, they rather not spend their own money on themselves, in fear of not making it and having to deal with the monetary lost. Not to demoralize the up-and-coming talent, but many of them, who are very talented, do not believe in themselves enough to spend their own money. They would rather spend yours; that is why the first thing that comes out their mouths when you meet them is, "I'm looking for management." However, there are a few talented professionals out there who have a dream, a vision and the talent to back it up. Hopefully, they will appreciate the tutelage of a seasoned veteran and are willing to reciprocate.
Sit down and take notice that Backbone is very seasoned, very intelligent and a no-nonsense type of guy. So, if you're ready, you better come prepared because he's having no foolishness! - Patrick kelly
Backbone, that's an interesting name. Where did it come from?
Literally, it represents strength and structure, my unscripted persona exactly.
A lot of people are claiming to be rappers now-a-days. What sets you apart from the rest?
I understand that this a business first. I lean more towards the term "entertainer", it's a better fit. I believe in giving the people my all when it comes to live performance.
All artist draw from other artist, past or present. Who are some of your inspirations?
When I saw Run (RUN DMC) perform live, I knew at that moment I wanted to be an MC. His stage presence and antics were so pure.
There are now new genres of rap music. So, where would you place your music?
Like I stated, I am not just under the umbrella of "rap music". I was blessed with the gift to read music and play several brass instruments. I reach beyond the norm musically, though rhyming is the essence of my gift, I am boundless musically.
How important is it as an artist/producer to be able to play a musical instrument?
Music is an art form, simply.
Your debut album was Concrete Law, how did the release of the album help your career?
With the release of Concrete Law, it gave me a sense of fulfillment. I was like "I did it". That emotion has come and gone, I'm stamped, so now I must share my knowledge of the business with new talent and sort of nurture their careers accordingly. I am preparing to launch Plateau Entertainment Group to give them that platform.
You have a subsidiary to Dungeon family called Generation X, give us some details on this new venture?
The Dungeon Family's own Backbone Presents: Generation X. Generation X is the grandchild of a vibration and that vibration is the Dungeon Family 1st Generation. We (GX) are "the reinforcers" of culture, lifestyle and a consciousness in music. (www.dfgenerationx.com).
As one of the founding members of The Dungeon Family, what are you looking for when scouting for new talent?
There are a lot of "rappers" claiming affiliation to the Dungeon Family. If you aren't bleeding the blood of Conrad St. "you ain't D.F.". GX'sters claim GX and NOT D.F. out of respect for the elders, which is official protocol. I make sure your essence is pure before I endorse and bestow the name upon thee.
Great production is sometimes hard to find. Who were some of the producers on Concrete Law and which producers will be on your upcoming project?
Of course Concrete Law was produced mostly by Organized Noize (Rico Wade, Sleepy Brown and Ray Murray). It also featured production by Ceelo Green, Outkast (Earthtone 3) and a few other producers I was working with at that time. As far as the projects I'm constructing now, I work closely with Bobby Whitfield. One word that describes his sound, "amazing". He produced 90% of the Dungeon Family Generation X Global Warning album (available on ITunes now).
What are some pitfalls you encountered in the past and are those same pitfalls a happenstance now with new talent you decide to work with?
The game has changed. To be honest, I've noticed many artist don't take this business as serious as they should. I am big on deadlines and punctuality. I run a formatted system, I tend to move on quickly when I notice people slugging. An artist must realize that they are the sku; sell yourself,  but not your soul.
Being a part of the infamous Dungeon Family, with the likes of Goodie Mob, Big Boi and Andre 3000 of Outkast, how do you keep yourself grounded and down to earth?
We are a band of brothers in D.F. Success of another has never come into play amongst us. We can directly credit that to Rico Wade for allowing us to be our entities under the brand. We were never bound as a collective to any situation which gave us the freedom to express.
How did you all arrive at the name "Dungeon Family" and what is the history of how you all came together?
The name Dungeon Family stemmed from the look and feel of Rico Wade's basement studio. We were surrounded by red clay dirt walls and freehand graffiti. The name was first written by Big Boi in the "thank yous" of one of the Oukast albums and first spoken into existence by the Witchdoctor on his single "Holiday." We were carefully pieced together by a higher source of reception. "We Are Dungeon Family!"
It seems as though you've been in the rap game for quite some time. Who are some of your major musical influences and what stars have you worked with, thus far?
Well we basically break bread and fellowship with each other in the Dungeon Family. If you noticed on most of our releases, the features were kind of kept in house. I am not opposed to working with other producers/artist outside of the family though.
Are there any shout-outs or thank you's you would like to make?
I'd like to thank my Dungeon Family brothers and my extended D.F. Generation X fam. Special thanks goes out to you guys for giving me this platform to inform.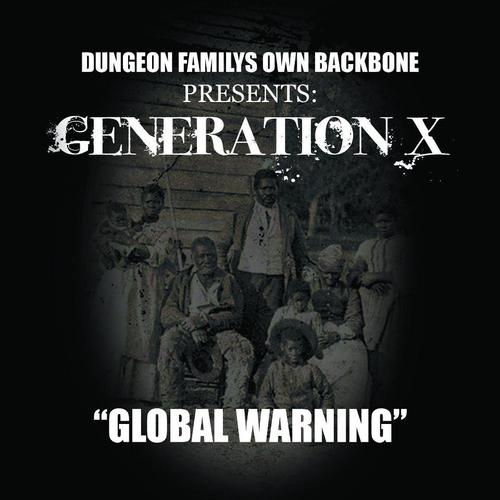 Contact: Plateau Entertainment Group| 678 459 5140
www.iambackbone.com
www.twitter.com/backbone_df1g
www.facebook.com/iambackbone
www.dfgenerationx.com
www.thedungeonfamily.com
Get To Know The Music:
Youtube
Soundcloud
GenerationX
Source: Backbone
Contributors: August Mapp & Patrick Kelly
Click here for reuse options!


Copyright 2012 USL Magazine