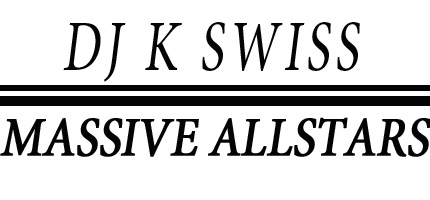 So, is it a coincidence that DJ K Swiss was chosen to be a part of this months DJ+Producer Issue? I don't think so. Swiss was introduced to us by Producer Papa of PapaRoc and we've been supporting him ever since. Finding out he's a fellow Jamaican only validated his coolness and the reason why I've taken a liking to him in the first place. Get to know DJ K Swiss of Massive Allstars!
What are some challenges you face while running the day-to-day operations of Massive Allstars?
Some of the challenges I face in running my own business are never having enough time in a day and finding people with good work ethics and moral standards to do business with.
How did I get started as a DJ?
Well I'm a second generation DJ. My father was also a DJ, but not professionally. I grew up listening to music and I guess I subconsciously learned how to do transitions, fades and blends. There were never any formal lessons. At the age of 10, the Hip Hop culture was just starting to develop and I knew I wanted to be apart of it so I started buying my own records, turntables, etc. And began Djing for family and friends first, then small neighborhood parties and worked my way up from there.
How do you bridge the culture gap when spinning, considering you're from Jamaica, but live in the states?
Honestly, I think I'm given a little more latitude than most DJ's. Because it is a well known fact that I was born in Jamaica when I'm being booked, my clients typically request that reggae is included in the nights play-list.
When working with artist, what are some words of wisdom?
I would say be receptive to the opinions of others, have a good support system and understand that no star is born overnight so be willing to put in work with no time limits.
Where do I see the state of music in Atlanta?
Music is constantly evolving, and it seems to be happening a lot faster now than it ever had before. I believe this a result of technology and today's social networks. Music has become more accessible and as a result you have great producers and artist alike putting out new sounds that the music audience is able to access. So the sound that was trendy last year becomes just that, last year. Now as it relates to Atlanta, well, the Atlanta music culture and audience is changing at a feverish pace due to the large number of people moving into Georgia. I remember when you went to a music shop or Mix-tape store and asked for an R&B CD or Mix-tape and folks would look at you like you were crazy. Now-a-days, you can find everything from east coast rap, west coast rap, r&b and even techno in any given store.
When mixing where do I pull your inspiration?
I pull my inspiration from the audience; my supporters. Every good DJ knows that you have to get an idea of where the majority of your audience is from and to play the type of music that would be most appealing to them, within the first 15-20 minutes of your set.
Of all the people you have worked with, who have you enjoyed working with the most?
Of all the people I've worked with I would say Amanda Leigh. She is a great person inside and out and an extremely talented young lady. She is truly passionate about her craft and is willing to perform at a moments request, even if it were for an audience of one; You've gotta love that.
What are your plans for the future and where do you see yourself and your business 10 years from now?
My plans for the future is to make Massive Allstars and Massiveallstars.com the number one A&R, Record label, Promotion/Marketing company and website in the world. Technology and social media is a huge part of our brand and I see us ten years from now as the new Bad Boy entertainment with a Google or Facebook twist.
Any advice for upcoming DJs, producers and artists?
My advice to upcoming producers, artists, and DJs would be to make sure that the music business is the business you want to be in and prepare to work like you've never worked before, if you truly want to be successful.
Sources: DJ K Swiss, Patrick Kelly & August Mapp
Click here for reuse options!


Copyright 2012 USL Magazine