Promoting Style, Diversity and Individuality In Young Men!
It's not everyday you get to meet young people who are persistent, serious, talented and know exactly what they want out of life. However, in the July 2012 issue, we introduce you to the crew of Air Fresh Entertainment. They are a bunch of young men and a lady who are very serious about their talents. And they are very talented. From artist to musicians, dancers, engineers, videographers and DJ's, these group of individuals are not only serious about what they do, but they are self-sufficient and self-sustainable!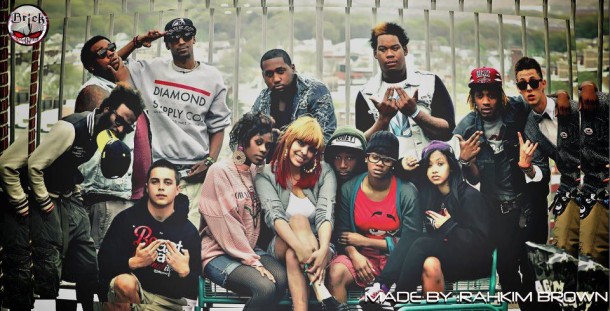 SHOW URE FUN-SIDE JUNE 2012
Show Ure Fun-Side is an Ad Campaign all about encouraging young men to not be so hell-bent on one look, style or personal way of dressing. "It's okay to mix it up every once in a while so you don't seem like everyone else; followers!" The ad campaign shows a vibrant young man stylish, yet stuffy and serious. As he transitions through a not so normal day, he meets up with a bunch of NYC jerk dancers who encourages him to let loose. A little peer-pressure ensues and the stuffy young man is transformed into someone who isn't afraid to let loose, take risk and be an individual.
The Idea: Editor-In-Chief Patrick Kelly was presented with the challenge of shooting UM Model Donnell Morris and Lance Wilcox from Philadelphia and a group of NYC jerk dancers called Undefeatedonez. So, in an effort to save a lot of time and resources, he combined the shoots into the "Show Ure Fun-Side" Ad Campaign. Shot by NYC fashion photographer Hyun Gu Kim with hair and make-up by Dani Scarcella, the team made a day in Chinatown and Soho an enjoyable experience.
Get Involved In The Campaign
A campaign that will be highlighted in the next 5 issues of USL Magazine, Editor-In-Chief Patrick Kelly hopes to encourage other entities and brands to help young men become more DIVERSE in style! And we would like to encourage like-minded individuals to lend a hand and recommend a young man or crew they feel should be recognized as being diverse in style and individuality. Each month, a group of selected young men will be featured in USL Magazine. Please send your recommendations to uslmagazine@seidemg.com?
About Our Signature Model: Donnell Morris was chosen as an UM Model from the first regional model search contest USL Magazine conducted Sept, 2011. A contest where models had to get others to vote for them by way of Facebook, Donnell racked up the top votes of all 100+ male models who were apart of the competition. Donnell is a dedicated model who is very focused, professional and is consistently encourage by the love and support of his mother (Alecia Morris), his family and his manager Ramona Wilcox.
Look for model Donnell Morris on the cover of the June, 2012 digital Gallery Book by USL Magazine.
Click here for reuse options!


Copyright 2012 USL Magazine