The road that leads to success sometimes can be a long and tumultuous one. It seems like everything that can go wrong will. All of your main support system will fall by the way side like it was planned sabotage.
The beginning of any downward spiral is to appoint people with your heart and not their qualifications. Sometimes you may have a tendency to give people opportunities only to be proven wrong, but it's no fault of your own. Being a bit facetious is a sentiment we all share especially when you know everyone needs someone else to help them along the way. It's making the right choice in whom to help that's the problem. And of course the person receiving the help has to recognize the potential and profitability of where they are in the bigger scheme of things.
One can, however, reach their breaking point when they get wearisome of being the nice guy always wanting to make sure everyone is alright. The guy that will give you the shirt off his back, figuratively speaking, decides he has had enough of all the B.S. and people most valued, like partnerships and friendships don't really hold the same weight. Why, you ask? Well, it's like having your scrotum caught in a vice grip with pressure being applied every time you did something no one liked. You always have to keep all four eyes (2 in the back and 2 in the front) wide open because there is a chance someone might try and pull the wool over your eyes; metaphorically speaking. What can you say to that; you're glad they are all gone? The so called support system, the so-called associates and definitely the so-called friends are all gone?! Enemies seem more fruitful to hang out with in those inferences. At least with enemies, you can ascertain when they will try to strike because you're always on-guard.
"There is one thing I've learned a very long time ago and that is to never let them see you coming. It's like creating a two way mirror where the reflection that is seen is never what's intended. And of course, you must always play the helpless role to make sure you're on an even playing field. It's also very important to put yourself in depraving situations from time-to-time so that you can really see where people are with you; to see where you stand. What I've learned from these scenarios is that in hardships, most people will cling to their own individual wants and needs without any regard to your own well-being. And people who just happen to be around you always have at least two motives even though they pretend to be on your side with a helping hand. Seeing so many sides of the people spectrum (what's not intended to see) can be a bit exhausting, but it keeps you abreast of whom you're dealing with instead of the facade." -Patrick Kelly
First off, who is Patrick Kelly?
I'm an optimist. I'm the guy who isn't afraid to take chances, win or lose. I'm that friend to people I know and I'm an associate to people I come to know. Patrick Kelly is that guy that most people see and say oh, he's a really nice person. He appears to be not too much on his game so let's see what I can get from him. The funny thing is since I was 12 years old, I realized what my gifts were and often times I play the not so smart guy just to flush out peoples personalities. In a nut shell, I am that guy who will help anybody; the guy that will give you 110% because he expects 110% in return.
So you've been getting a lot of flak from people you know about being a hard ass, especially when it comes to what you're passionate about. What do you say to that?
The only thing I can say is that you live and you learn. There are a lot of people out there who want to mold your personality in something they can manage, but I've always been a strong headed and confident person even when it didn't appear so. I'm sorry that certain people may feel intimidated by me, but that's life. There are leaders and then there are followers and clearly I'm a leader; always have been. Yes, I do agree that I can be stubborn at times, but I'm also that guy who is man enough to apologize when I'm wrong too. I think what you have to remember is that when you find people who disapprove of you as a personality, it's because you remind them of something they aren't, yet always strive to become.
You've been in Atlanta for what 18 years now? What are some of your accomplishments in music and entertainment and who are some of the people you have helped along the way?
Yes, I have been in Atlanta now over 18 years. I moved to Atlanta right after my horrible spring semester at Towson University in Maryland. I relocated here on August 22nd of 95, a date I will never forget because it was the first time I had ever felt the feeling of being homeless. It's not a pretty feeling at all. When I moved to Atlanta, I was supposed to transfer to Clark Atlanta University while working at Stouffer Hotel and live with my aunt and uncle in Decatur; none of which worked out. I didn't like Clark and my new job transfer and living situation fell through so I was left to go on faith. I remember driving by Spring and 14th with tears in my eyes because I knew that I wasn't gonna go back home; I wasn't gonna just give up after a few setbacks. By the grace of God there was a guy I met while being in Atlanta for Freak Nik that year name Kevin Bryant who introduced me to my first roommate. If you don't know who Kevin Bryant is, well, he's a soul/dance artist here in Atlanta who garnered his first hit dance single by doing a remake of Chaka Khan's single "Any Love." As far as my accomplishments, I did a lot modeling and TV work my few years in Atlanta and got a new job through one of Kevin's friends Eddie Young who happened to be manager of The Evergreen Conference Center and Resort at the time. Throughout the years, I was able to form relationships and was co-founder in a clothing line called Whatever Wear which Kevin and Lentheus Chaney was a part of. From there I and an ex-friend Chuck Dobey founded SEID Entertainment and Production. I also was a part of Beautiful People, Megavibes and the Urban Spotlight, a local talent show we did with DJ T-Wrex and DJ Tron of Urban Legends DJs which ran for 13 months at the infamous Shark Bar Restaurant and Lounge. As far as people that I've helped, I was Kevin Bryant's graphic artist for over 12 years which means I was in charge of all his street promotions and design. We did artists development through SEID Entertainment and Productions and educated many artists on the music business including signing our first gospel rap group called Reign Down (Carlos Jones). Through our clothing line Whatever Wear, we were able to do Morehouse Fashion Shows, The Black Expo, For Sister Only, Tribeca Clothing and Straight From The Apple, Upscale Magazine and also worked with celebrity photographers Shawn Dowdell and Umari. Models who started with us and have made a name for themselves are Teck Holmes from MTV's The Real World Hawaii & the movie Van Wilder, Black Men Cover Model Sincily and Ryan Neal.
What is your passion for the music/entertainment business and why start USL Magazine?
Well, my passion for life is to help people. I really realized that during one of our Urban Spotlight shows that DJ Cowboy and ET from The Dirty Boyz and 107.9 had attended. An artist came up to me while I was standing at the sound board and said "Mr Kelly, we really appreciate what you all are doing for us indie artists." It wasn't until then that I really realized my calling in music. Since I was a youngster, I've always been inspired by music, TV and the movie industry. However, starting USL Magazine was actually brought up by Darryl, a colleague who happened to be working with us while we were taping the Ultimate Spotlight CMV TV Show. The TV show idea spawned USL which is somewhat of an acronym from the name of the show. Starting USL Magazine just seemed like the next reasonable step with everything I had created prior to now.
What are you hoping to accomplish with the magazine and who are your target audience?
The magazine speaks for itself. It's a diversity of music and musical artistic in conjunction with entertainment, different lifestyles and some satire. USL Magazine is primarily an online magazine, but I've decided to print quarterly for the local market. As far as demographic we're trying to reach, they were reached during our male model casting for the first issue. And we're talking about young men and women of many races and culture between the ages of 17 and 25 who are diverse, fashionable and open-minded. We are also beginning to see a trend, especially, with the hip-hop and jerk community. In a nut shell, USL Magazine gives you real life attitude fused in music and entertainment with fashionable attire for the young and viable.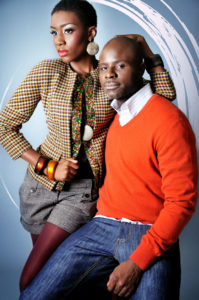 I see you're doing sex stories and the current issue is talking about 3 way relationships. Why did you choose to do a story of 3 way relationships?
The whole idea for this piece was because I have either had scenarios of the sort presented to me or has heard of them so I wanted to not only say my piece on the subject, but also find couples who have experienced it. Honestly, I don't care what people do in the privacy of their own home. Their privacy is exactly what it means; their own privacy. But if you're in a relationship, is it fair to say you love someone and you've given them your heart yet you don't really know them? The object of this piece is to help or allow couples and people who are thinking about going into relationships to really think about who they are and what they want from it. We all know everybody lies and the ones who are protesting the most and the loudest are usually who you should really worry about.
So what was it like interviewing Day 26 and why did you chose them to be a part of the magazine?
We were actually solicited by Day 26's publicist to get them in the magazine. With all the traffic that was happening on facebook alone, I believe they had gotten wind of the magazine and wanted to be a part of it. While interviewing the men of Day 26, I realized they were still real people and the fame and prosperity had not changed them at all. Mike is particular was a bit standoffish at first, but he later warmed up to me. What I gathered from the interview was that these young men are trying to find their place in the business while still trying to make good music for their fans.
Tell us a little about the photo shoot you all did at The Atlanta Decorative Arts Center. How it all was arranged?
Actually going to ADAC was really a fluke because we were initially looking to do the shoot at The Aurum Lounge. After playing phone tag a few times with the owner, I called ADAC, and spoke to Katherine about the magazine and what we wanted to do for a shoot there. Two days later Anna Hajiyev (Art Director of USL Magazine) and I went for a tour and we were introduced to the showroom owners who became a part of the shoot. Everyone at ADAC was very inviting except for one showroom in particular who will remain nameless in my book. Overall the shoot lasted for 8 hours. Anna shot 7 girls (Kotera, Kenya, Deanna, Tiana, Brynne, Kierra & Elena) and 2 dogs (Gracie & Coda) in 5 showrooms (J Nelson, August Avery, Moattar, Innovations USA & Smith Grubbs Associate) with 2 make-up artists (Patrice Story & Letitia), 2 hairstylist (Tamiko Burk & CJ), 2 wardrobe stylist (Nera B & Tomiko Couture), a clothing designer (Crystal of Nya Nya Couture) and 3 assistants (Papa, Manny & Ashley Dniece).
From what I've read, the magazine initially had a release date of Sept 2011. What changed the release date to some three months later?
Believe it or not we had been working so hard to have a release for September, but as you know sometimes your plan doesn't co-align with Gods plan. It's hellish putting out a magazine, especially when you want it to be perfect. Everyone who is contributing have to follow the plan and time table set to accomplish everything if you hope to launch on time. We had three main problems which sidelined the launch of the magazine. One was getting the writers and transcriptionists to finish up with the interviews and editing, and then we had a late shoot because I wanted to include a local boutique in the premiere issue. Finally, the mother of all mothers happened; I began losing my sight. I had been having problems focusing my eyes a month earlier, but thought it was because I wasn't getting enough sleep being in school full-time and working on two magazines at the same time. Then one morning I woke up and was seeing doubles and my eyes were going in and out of focus. You are talking about a scary situation. This went on for over 6 weeks even after I had seen the optometrist who said I had CVS (computer vision syndrome) from being on the computer a lot. Everything suffered from that point because I needed my eyes for all that I had to do. I even got a mere 3.0 last semester because I could not spend hours at a time on the computer. Now over two months later, I still have problems with my eyes from time to time, but it's not as severe as it was initially.
So you're finally launching USL Magazine, a January/February issue, what do you all have planned for the spring and summer issues?
For the Spring issue which will come out some time between March and April, celebrity DJ/Model Sky Nellor will be on the cover and we are looking to possibly have feature interviews from Anthony Q (formerly of Day 26), Frank Ski, Miss Sophia, Diana Degarmo, a few major DJ's in LA, some TV stars and many others. A well-known rapper will be on the cover for the summer issue plus we will be heading to Miami soon where we will be shooting models for our summer swimsuit fashion spread. That's all I'm going to say for now.
I hear you have a few online contest you're about to launch. Can you give us some insight on the Fashion Sense Contest and what that entails?
The Fashion Sense Contest is definitely a signature brand of USL Magazine and I originally created it so that the readers could participate and be a part of the magazine whether they were actual models or not. The Fashion Sense Contest is a process where we are looking for people in their everyday fashion inspiration. So, you can look for many different Fashion Sense Contests to come in which we will be giving away more electronics and teaming up with clothing designers, boutiques and online retailers for co-branding purposes. USL Magazine has also teamed up with Anna Hajiyev Photography for a monthly "One Look Make Over Contest" and it's exactly as it says.
As a magazine editor, you basically control every aspect of the publication. When you are choosing models what do you look for?
Since I've been in the fashion scene for years now, beginning my modeling career at the age of 17, I'm more interested in a models' personality more than how shapely or cut their bodies are. Yes, I want a good looking model that can sell product, but if they are unique or possesses an extraordinary vibe about them, then that will draw me to them quicker than anything else.
Let's talk about your cover model for the premiere. I believe her name is Kotera. Why her? What was it that you saw in her to say; she's the one for my magazine?
Believe it or not, when I first saw Kotera from the photos during the model contest on Facebook, I wasn't impressed at all. It was only when I invited her and the other female models to our first fashion shoot at ADAC that I realize the talents she possessed. Kotera is a natural. During the shoot, she required the least direction; her poses were on-point as if she could communicate to the camera telepathically. Mind you, Anna only shot her once because she had to leave early for school, but that shot in the chair spoke volumes. I believe if Kotera really stay focus, keep her business intact and stay hungry, she will go far in the modeling world.
There are many magazines out there. Why start a magazine now and what does USL Magazine possess that will make it stand out from the rest?
USL Magazine isn't about recreating the wheel, however, it is about offering interesting and compelling stories, features and hot topics people only think and dear not say. I believe the Atlanta market needs a magazine for an industry that is steadily growing at a fast pace. The music/entertainment industry here in Atlanta is buzzing right now because of the new tax breaks that are being offered to new businesses. Being a magazine for artists and entertainers on the cusp of their career is definitely needed so that's why USL Magazine is formatted the way that it is. Plus, the magazine has favor. And when you have favor from God that is all you need. I am truly humbled for the talent God has blessed me to work with thus far and this is not even the tip of the iceberg. Refreshingly free-spirited is a moniker I want people to remember about the magazine and that we will always be honest about our business and continue to give people opportunities as long as I, my affiliates and USL Magazine are appreciated.
By Percy Howard
Click here for reuse options!


Copyright 2011 USL Magazine